Practice Competence & Excellence
(These pages are being revised August-September 2018)
The practice competence and excellence dimension focuses on the attitudes and activities that comprise our direct clinical care of sick, injured or vulnerable people. It emphasises the objective, procedural aspects of nursing practice. In the diagram below you see the eight interrelated concepts of this dimension highlighted within a dimmed background of the Careful Nursing Philosophy and Professional Practice Model© (Careful Nursing) as a whole. But, notice that the philosophical principles are never dimmed because they underpin and guide all aspects of Careful Nursing practice.
Of course the main purpose of Careful Nursing is also never dimmed: everything about Careful Nursing contributes to protecting sick, injured and vulnerable people from harm and fostering their healing and health, or sometimes a peaceful end of life.
Also, keep in mind that although most of Careful Nursing as a whole is dimmed in this diagram, our thinking and practice is a unitary process meaning that all the principles, dimensions and concepts are integrally related. The practice competence and excellence dimension is especially interrelated with the therapeutic milieu dimension as together these dimensions constitute the dual clinical focus of Careful Nursing.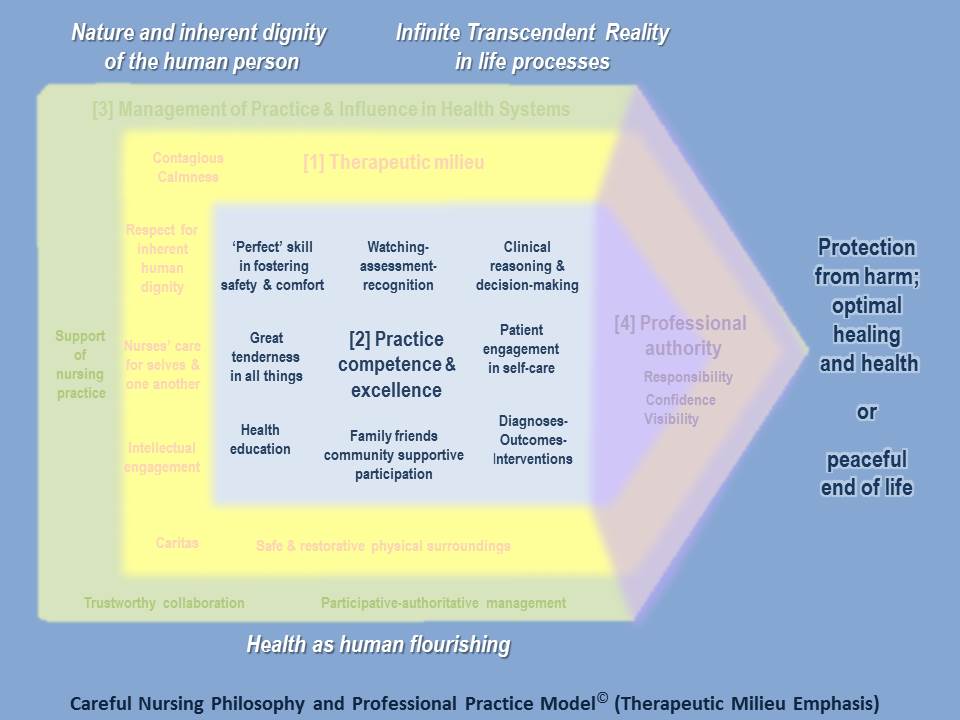 You will notice that this dimension is broadly similar to the widely recognised 'nursing process' thus some of its concepts will not be new to you; at the same time all its concepts are understood and implemented with renewed meaning and in greater depth. Most of its concepts emphasise the outward life or bio-physical reality of body and senses, for example precision in clinical skill. But its concepts also encompass to varying degrees our inward life of mind and spirit, for example watching-assessment-recognition and especially great tenderness in all things. Inward and outward aspects of practice are merged and balanced to create safe, comforting and supportive clinical nursing practice.
Practice competence and excellence highlights the nursing profession's distinctive contributions to healthcare
Following from the purpose of all professional practice models, Careful Nursing is structured to support nursing practice and nurses' control over their practice. Particularly, the practice competence and excellence dimension structures and specifies clearly the distinctive nursing contribution to patient care; it aims to make nursing visible.
For example, this dimension emphasises the nursing profession's long-standing watching brief; nurses' 24/7 relational continuity with patients; in the watching-assessment-recognition concept. The nursing profession watches patients not only for nursing reasons but on behalf of all healthcare professionals when they are not present. Nursing is the only profession with the 'big picture' of the condition of patients (Keenan et al 2012, p.119).
In addition, practice competence and excellence requires that nurses 'put words on' their practice. There is much evidence that nurses are often not able to articulate clearly their distinctive contribution to patient care and its effectiveness, for example at multidisciplinary meetings and patient rounds. As a result although nurses are present, their practice is invisible. Inability to articulate nursing practice is frustrating for clinical nurses because, in their words, 'we do all the work'.
This inability probably underlies a recent national newspaper article in which a long-experienced medical doctor and university professor admonished himself for having taken nurses for granted for many years. He had only recognised the 'true value of nurses' and appreciated 'the uniqueness of this aspect of our health service' when a sick family member was hospitalised.
Practice competence and excellence addresses this problem by including nurses' use of standardised nursing languages. These languages focus on patients' nursing problems and enable nurses to identify and treat them with accuracy, clarity and consistency. This peer-reviewed, evidence-based process drives skilled, in-depth nursing assessment and enables identification and measurement of nursing-sensitive outcomes.
Implementing practice competence and excellence concepts allows nurses to take their place in the multidisciplinary team with confidence because they too are able to articulate and discuss the distinctive nursing contribution to patient care. In other words, nursing as a professional discipline is truly able to collaborate with other healthcare professional disciplines. This ability provides the nursing profession with the strong platform it needs to collaborate globally in initiatives to improve healthcare access and effectiveness (Fealy & McNamara 2015).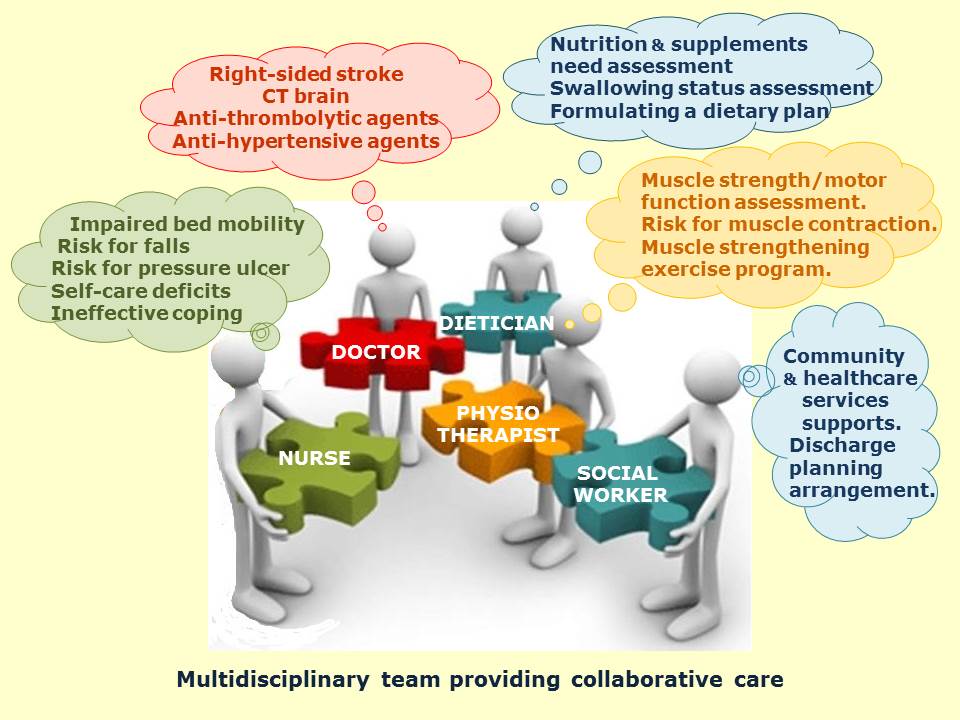 Take note that Careful Nursing does not engage in integrated or interdisciplinary care. In an integrated care process nursing invariably becomes invisible. The word interdisciplinary means combining several professional disciplines together into an approach to a problem and again nursing invariably becomes invisible.
While multidisciplinary collaboration includes a number of healthcare professional disciplines, not limited to those shown in the illustration above, nursing collaborates particularly closely with medicine, as shown in the following diagram: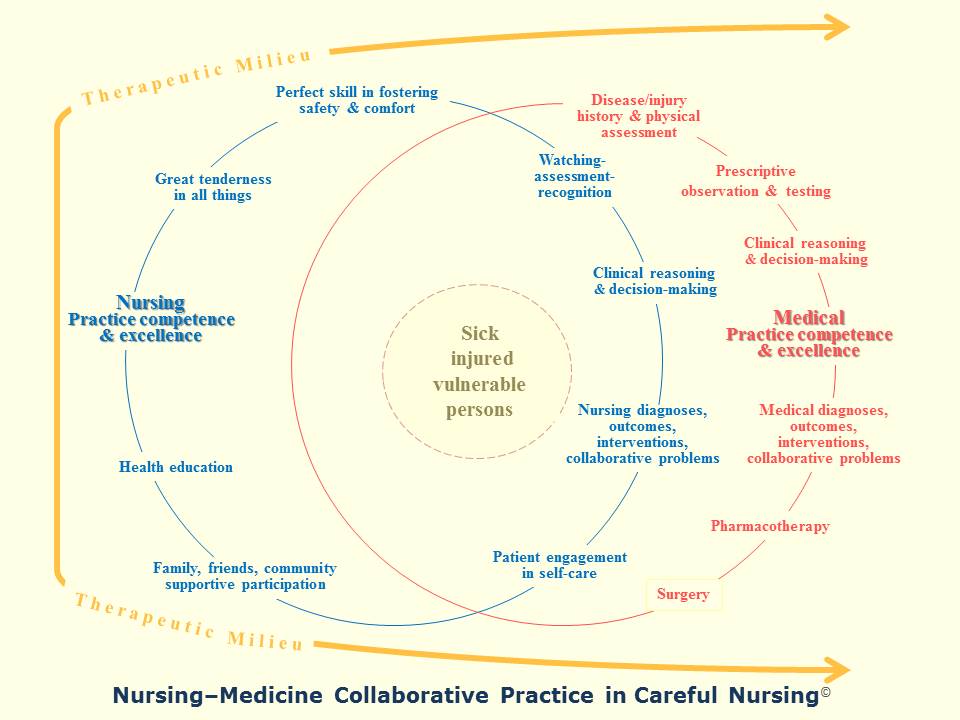 Competence and excellence
As the title of this dimension indicates, its eight concepts are implemented at least with competence and always with the intention to develop excellence. The literature indicates that there are different views on the nature of competence (Fernandez et al. 2012) and suggests that competence and excellence relate to one another on a continuum that can move in either direction. One's position on this continuum may be influenced by a range of personal and situational factors (as discussed on in pages 6 – 8 of this article). We know the experience and satisfaction of being close to excellence but we also have times when we are more in the area of competence. Nonetheless we all aspire together and help one another to practice with excellence. We know what this means for the people we care for, and for our own collegiality and professional happiness.
Eight concepts
The practice competence and excellence dimension is defined in detail by its eight concepts which tend to fall naturally into a loose grouping, shown below. This grouping includes collaborative problems which are not nursing problems per se, but possible physiological complications patients are at risk for developing and which nursing and medicine collaborate closely in identifying and treating: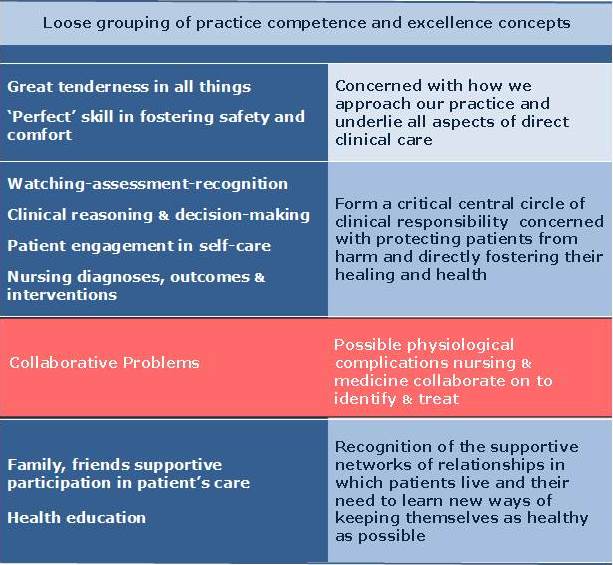 References
Fealy G. & McNamara M (2015) Transitions and tensions: the discipline of nursing in an interdisciplinary context. Journal of Nursing Management 23, 1–3.
Fernandez, N., Dory, V., Ste-Marie, L., Chaput, M., Charlin, B. & Boucher, A. (2012). Varying conceptions of competence: an analysis of how health sciences educators define competence. Medical Education, 46, 357-365.
Keenan GM, Yakel E, Yao Y, Xu D, Szalacha L, Tschannen D, Ford Y, Chen Y, Johnson A, Lopez KD, and Wilkie DJ. (2012) Maintaining a Consistent Big Picture: Meaningful Use of a Web-based POC EHR System. International Journal of Nursing Knowledge 23, 119-133.
Therese C. Meehan © June 2017