Professional Practice Model
Professional practice models
As emphasised in the Summary page, Careful Nursing encompasses a professional practice model (PPM). PPMs emerged in the 1990s, defined as a 'system (structure, process, and values) that supports registered nurse control over the delivery of nursing care and the environment in which care is delivered' (Hoffard & Woods 1996, p. 354). PPMs developed further in conjunction with development of the Magnet Recognition Program® (American Nurses Credentialing Center (2014), widely recognised as a benchmark of exemplary nursing practice.
PPMs are different from conceptual models of nursing in that their primary aim is not the development of nursing science as such. Rather, PPMs are theoretical frameworks developed from the perspective of actual professional nursing practice aimed at the highest possible standard of practice; their primary aim is to strengthen and support safe, high quality nursing practice. PPMs emphasise practice values and enable nurses to envision and articulate their distinctive practice (Slatyer et al. 2016). Slatyer et al. further summarise essential elements of PPMs as leadership, independent and collaborative practice, importance of the nursing practice environment, support of nurses' professional development and recognition, research/innovation, and clear identification of nursing-sensitive patient outcomes (p. 145-146).
The professional practice model of Careful Nursing
The PPM of Careful Nursing one of 38 PPMs identified and reviewed by Slatyer et al. (2016); thirty-six developed by nurses in hospitals or health systems specifically for use in their respective practice settings and two developed independently for use in any hospital or health system internationally, one of which is the Careful Nursing PPM. Some PPMs are guided by philosophical thinking, as is the case in Careful Nursing.
The PPM of Careful Nursing is composed of four dimensions with their total of twenty concepts, shown in different formats in the following diagrams because different diagram formats appeal to different nurses. A key point to remember is that the philosophical principles always inform the PPM, whether or not they are shown in a PPM diagram.
A linear diagram of the PPM with its philosophical principles: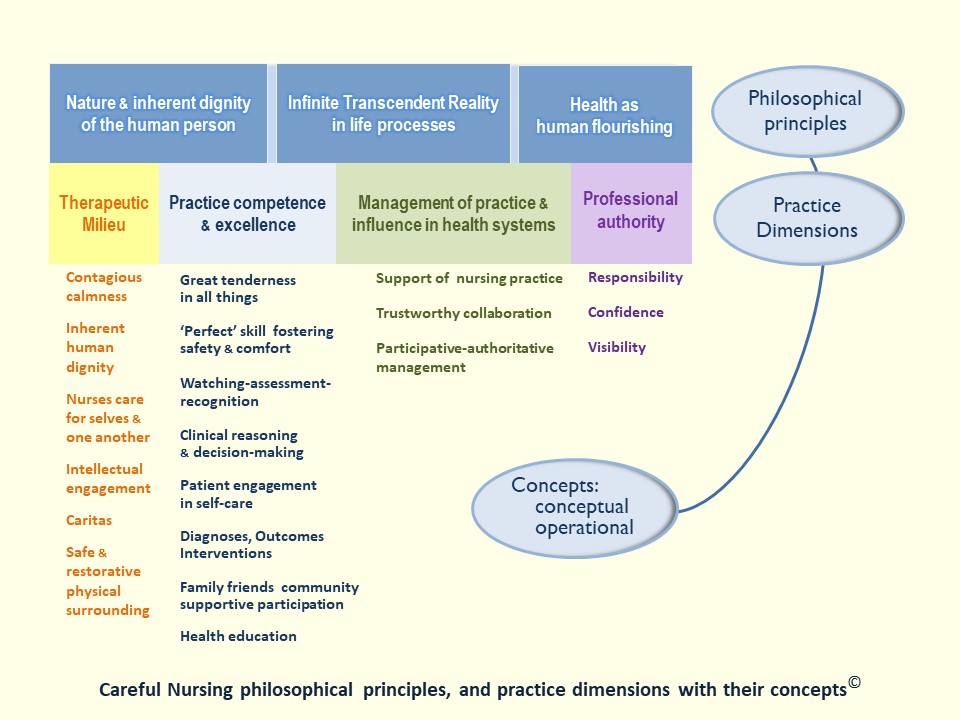 A practice oriented diagram of the PPM with its philosophical principles: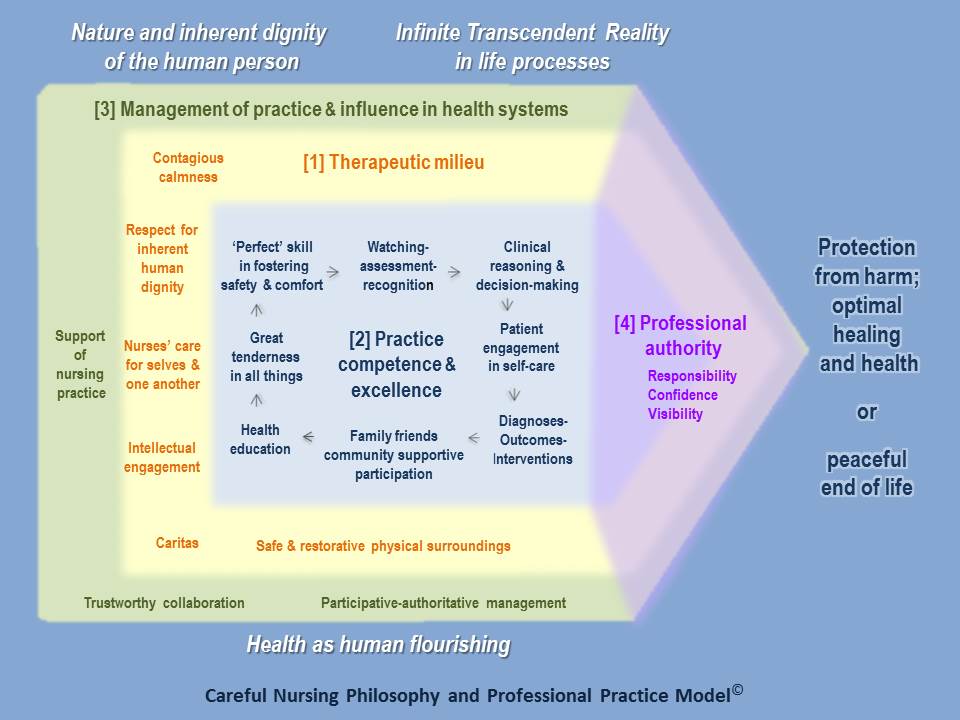 A circular diagram of the PPM where its philosophical principles not shown: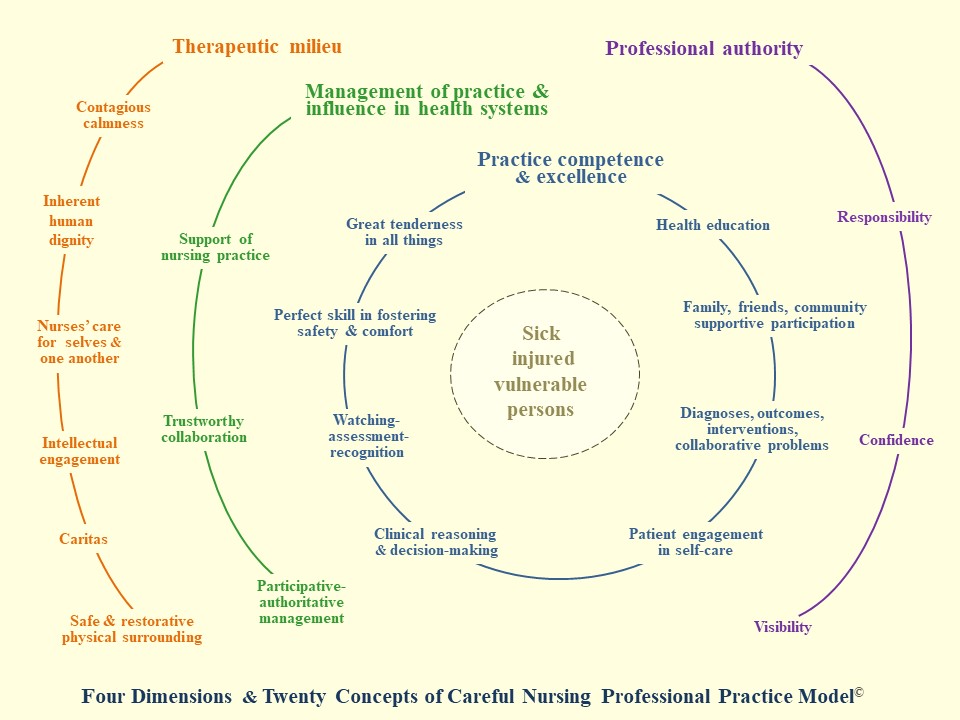 The Table below shows characteristics of PPMs, indicated in italics in the first section above, and the Careful Nursing dimensions in which they are mainly reflected: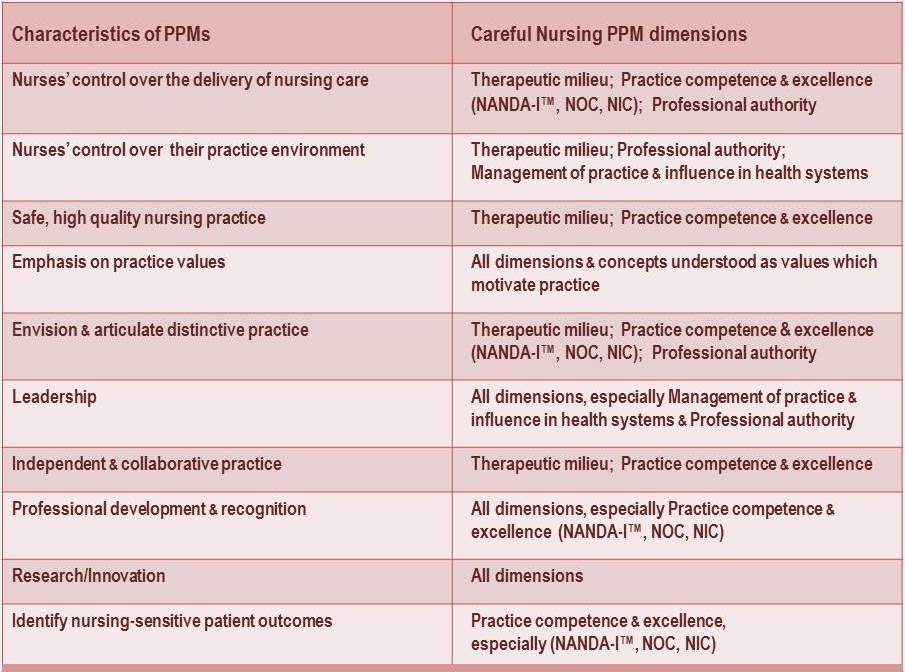 Implementing the PPM of Careful Nursing
It is likely that you will recognise most of the PPM dimensions and their concepts because they are already part of your practice. We have always sought to create a healing environment for patients and for ourselves to practice in; for many years we have followed 'the nursing process'. In some ways Careful Nursing is not new.
However, what the PPM of Careful Nursing does is organise, strengthen and deepen our understanding of the every-day essentials of our nursing knowledge and practice; it puts them into a 'mind map' or theoretical framework that we can use to routinely check on how we are doing in terms of the essentials of our practice. The PPM guides us to consider the depth and complexity of the nursing process; it guides us to provide our distinctive nursing care for patients and document and measure its effectiveness while also undertaking a central role in the collaborative practice of the multidisciplinary team. In some ways implementing the PPM can seem like a big change in how we practice; but this change can bring benefits such as increasing our control over our practice and giving us more time to spend with patients (Murphy et al. 2017).
'I will' statements: embedding the PPM concepts in clinical practice
It is not always easy to change patterns of practice and it can take time to follow through on a new intention to do something in a particular way. Nurses learning about and implementing Careful Nursing in their practice have found this to be so. But, we have also found a solution, a practice embedding tool: creating and using 'I will' statements.
Using 'I will' statements originated with nurses at Mercy Hospital and Medical Center, Chicago, USA, When they first began learning about and implementing the preliminary model of Careful Nursing in 2006, they developed practical ways of transferring concepts into actions, one of which was developing 'I will' statements, that is, what they would actually do to implement each concept. To develop 'I will' statements the nurses worked together to think about and discuss each concept. Then for each concept, they agreed using their own words how they would express the concept in their practice attitudes and activities. They developed agreed upon attitudes and activities, or 'I will' statements for implementing each concept (Roemer 2006). They kept lists of their 'I will' statements in places such as on the backs of their name badges and on flip-cards for easy access and review at nurses-stations.
As the PPM of Careful Nursing has been implemented in other hospitals, 'I will' statements have been used. Here are some examples: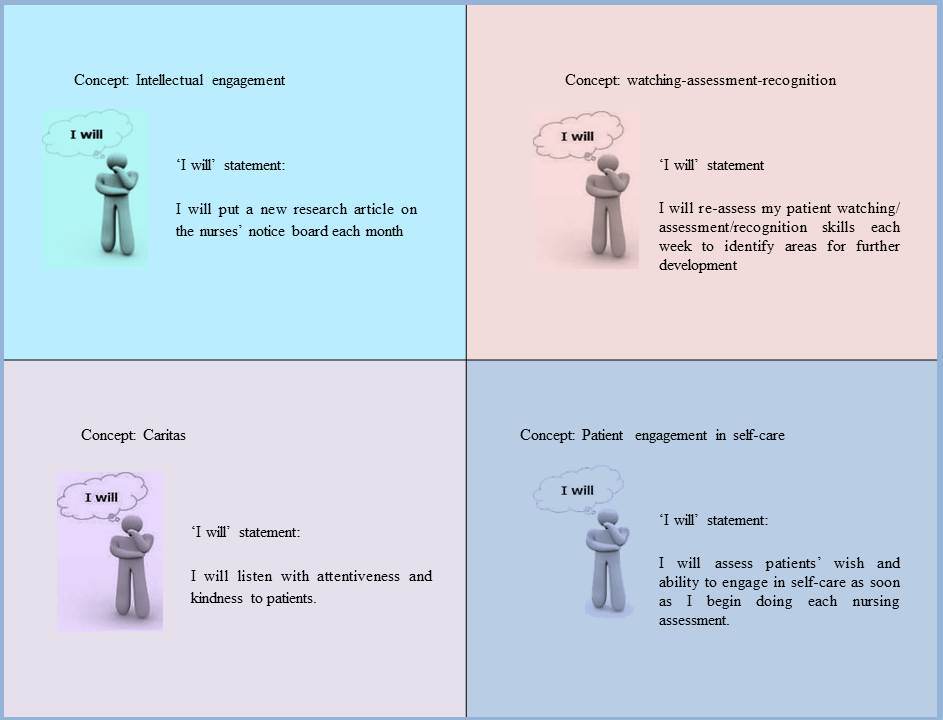 The PPM of Careful Nursing dimensions and concepts
In the following pages each dimension is described. For each dimension, in its sub-pages each of its concepts in described.
References
American Nurses Credentialing Center (ANCN) (2014). Magnet Application Manual. ANCN, Silver Springs, MD
Hoffart N & Woods CQ (1996) Elements of a nursing professional practice model. Journal of Professional Nursing, 12, 354-364.
Murphy S, Mc Mullin R, Brennan S & Meehan TC (in press) Exploring implementation of the Careful Nursing Philosophy and Professional Practice Model© in hospital-based practice. Journal of Nursing Management.
Roemer J (2006) Reports on Careful Nursing to Senior Leadership Team and Nursing Division. Mercy Hospital and Medical Center, Chicago, USA.
Slatyer S, Coventry L, Twigg D & David S (2016) Professional practice models for nursing: a review of the literature and synthesis of key components. Journal of Nursing Management, 24, 139–150.
Therese C. Meehan©
October 2017