Blog
Spread the Word! A Nursing Knowledge/NANDA-I Educational Visit to Ireland
We are very happy to announce that from June 8 – 16, 2019, we are hosting this 8-day visit to Ireland, and look forward to welcoming our nursing colleagues from the United States and around the world.
See below a summary of the highlights of the visit, which will be led by Dr. Heather Herdman, NANDA-I CEO, and Dr. Susan Gallagher-Lepak, NANDA-I Director of Education and Clinical Innovation. This educational visit is also endorsed by the Marjory Gordon Program for Clinical Reasoning and Knowledge Development at Boston College, Connell School of Nursing.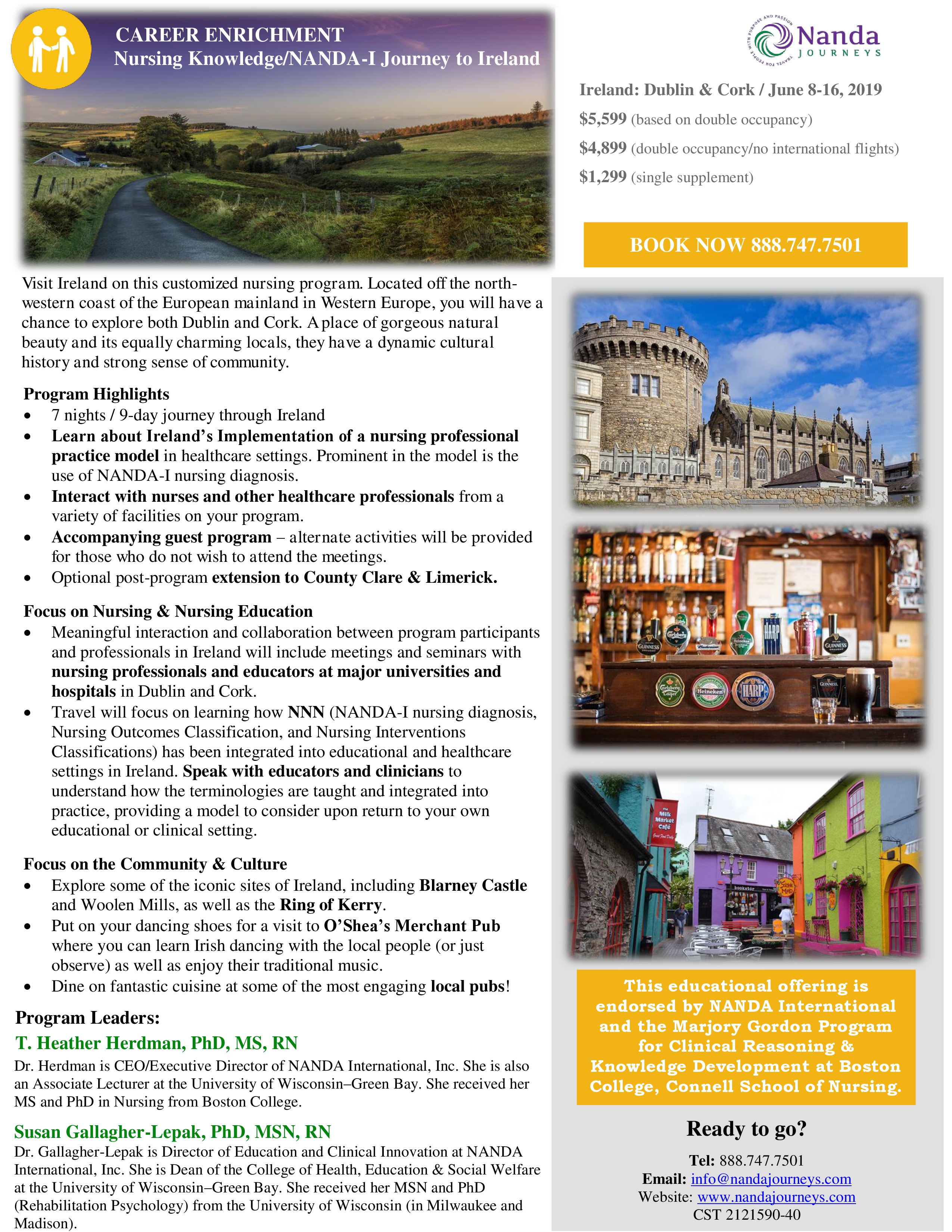 We look forward to sharing with our visitors how we use NANDA-I nursing diagnosis as a concept of the Careful Nursing Philosophy and Professional Practice Model©, and showing how important NANDA-I nursing diagnoses have become in guiding implementation of nursing care plans, in enabling nurses to articulate their practice clearly, and making nursing distinctively visible in the multi-disciplinary healthcare team.
We have arranged for our visitors to meet nurses in clinical practice and management at Dublin and Cork hospitals and discuss with them how they teach and use NANDA-I nursing diagnoses. There will also be opportunities to discuss implementation of NANDA-I with Directors of Nursing and to meet with School of Nursing and Midwifery faculty at major universities.
And, of course, there will be opportunities to see well-known historical places and to experience the Irish culture of Céad Míle Fáilte - A Hundred Thousand Welcomes - lots of chat, fun and music.
The visit will also include an accompanying guest program full of alternative activities for those who do not wish to attend the professional meetings.
We invite you to peruse the day-by-day itinerary for both professional and guest activities by clicking on the file below.
Therese Meehan
Attached Documents

Nursing Knowledge/NANDA-I Visit to Ireland Day-by-Day Itinerary
(Nursing_Knowledge_NANDA-I_Educational_Journey_to_Ireland_Itinerary_June_2019.pdf | 996 kB)