Blog
Using the HUSH to Support the Therapeutic Milieu
No, this blog is not about importing a Scottish rock band, "The Hush", into Careful Nursing. It is about a HUSH of a quite different kind. HUSH is an acronym for Help Us Support Healing and is an initiative of Mercy Medical Center, Des Moines, Iowa, where the Department of Nursing uses the Careful Nursing Philosophy and Professional Practice Model.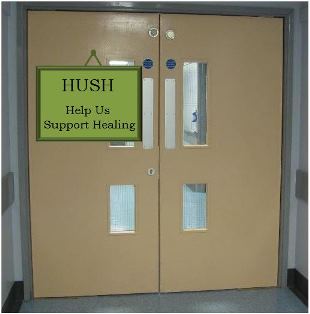 A growing number of hospitals are establishing the practice of having a period of quiet on nursing units (wards) after lunchtime each day, usually from 1:00pm until 2:00pm.
It is an hour when the ambiance of nursing units (wards) becomes calm and quiet.
There is an overhead announcement by the switch board when HUSH hour starts to remind all staff throughout the facility what time it is.
Hall lights are turned down or off, noise and activity are minimized and main doors closed.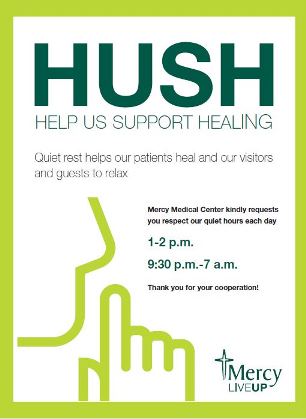 Health professionals know not to make visits to patients during this period, except in special circumstances.
When patients are admitted they are given a HUSH flier and its purpose explained.
Patients' family and friends also receive a flier to let them know ahead of time not to visit, or remain quiet while visiting, during this period.
They are also reminded by a sign on the main unit (ward) door.
At Mercy Medical Center, Des Moines, using the term HUSH for this period of quiet serves two purposes. Everyone is familiar with the word HUSH; to gently calm and quieten a person who needs to rest. As an acronym for Help Us Support Healing, HUSH reminds everyone that the overall aim of a hospital is to be a place of healing and that everyone has a role to play in helping healing happen.
Patients love the HUSH hour and look forward to it in their often busy day, for example, taking exercise, learning specialised self-care techniques, and having various therapies administered. Although most enjoy the company of visitors, they also appreciate time to rest by themselves. The HUSH is a time they know they can truly rest with little chance of being asked to do something or otherwise disturbed.
Nurses also love the HUSH because bringing a sense of calm to their unit (ward) also strengthens their own sense of calm. It offers them the opportunity to boost their practice of contagious calmness, which is fundamental to their creation of the therapeutic milieu. Nurses also appreciate the quiet time with minimal interruptions, so they have extra focus on critical nursing work.
The HUSH, contagious calmness and the therapeutic milieu go hand in hand in supporting healing for both patients and nurses – and hospitals as places where healing happens.
Julie Weldon