Blog
Nursing Assessment Made 'Easy' - More is Less
This is not to suggest that nursing assessment is easy, as in something that is simple and unexacting. Indeed, nursing assessment is a complex process and accuracy is essential. Astute nursing assessment is vital for patient safety: it can even make the difference between life and death.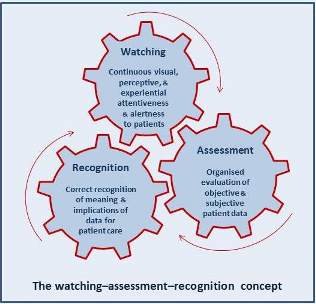 In Careful Nursing assessment is expanded into a three-fold concept called watching-assessment-recognition. Its watching component occurs continually over time and has its origin in the time-honoured nursing responsibility of guarding vulnerable people from harm. Its assessment component is the structured, evidence-based process used to gather objective and subjective patient data in an organised way. Its recognition component is the act of identifying correctly the meaning of perceptions and experiences of patients and patient assessment data, based on knowledge and previous experience.
Nursing assessment is made more; it has depth and breadth. It becomes as much as it can possibly be.
At the same time and in a certain sense, it also becomes less because its depth and breadth are integrated into nurses' overall professional responsibility. It becomes a professional way of being; a good habit; an effortless effort of instinctively noticing and sensing how a patient is and when 'something is not right'. Nursing assessment becomes easy as in something that is done calmly and intelligently as a matter of course.
Therese Meehan