Blog
A Roll-Out: Implementing Careful Nursing
Nurses at St. Vincent's University Hospital in Dublin, Ireland, have recently begun their fourth ward/nursing unit based introduction of Careful Nursing, a further step in the process of implementing the philosophy and professional practice model across all patient care areas. That is to say, they are very keenly engaged in what is called 'the Careful Nursing roll-out'.
First, a note on definition of terms
In Ireland, and also in the United Kingdom, we retain the old word 'ward' for what in North America is now called a nursing unit. 'Ward' carries with it important meanings. From the Old English weardian, it means a place where people are guarded, protected, kept safe. It draws on its German root wer-, meaning to perceive and watch out for, and from its link to the Old French reguarder it connotes people being kept in view for their safety with solicitude, respect and affection (Partridge 1959). This definitely seems a word worth retaining.
The roll-out
The term 'roll-out' might sound a bit like slang. But this really is a roll-out. Let me explain. Roll-out has become a widely accepted term for the official introduction of a new product or service. But it also has the connotation of moving forward along a surface by revolving on an axis or by repeatedly turning over. The Careful Nursing roll-out reflects this meaning in its action research component.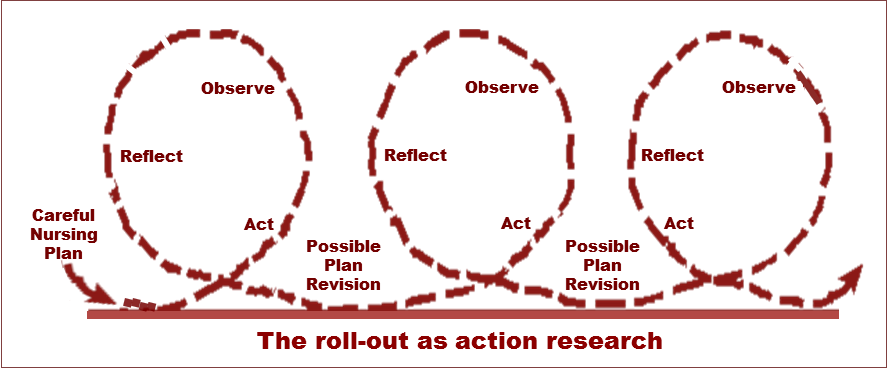 Introduction to each ward begins with the project coordinators spending time on the ward in discussion with the nurses about current practice and the changes that are planned with Careful Nursing. Next all nurses on the ward attend a 2-day workshop where they are introduced to the philosophy and model.
Then the actual implementation begins. The project coordinators work with the nurses as they embrace the practicalities of actually implementing the Careful Nursing philosophy and concepts. All observe and reflect on this embedding process. As with any planned change, the process is a mixture of insights, satisfactions and challenges, all of which are recorded. The nurses together plan any needed revisions and the cycle is repeated until embedding is completed.
Thus, while the project overall articulates and measures the nursing contribution to patient care, it also records the process of embedding nursing quality improvement into practice.

The roll-out is powered by the values, motivation and enthusiasm of nurses at every level of practice, from the Director of Nursing to the most recently employed staff nurse. Their work was recently attested to by a 2014 finalist award from the CMG Irish Healthcare Centre for the Large/Teaching Hospital Department Initiative of the Year, for the Careful Nursing Pilot Project Report.
Therese Meehan
Reference
Partridge, E. (1959). Origins. New York: The Macmillan Company.